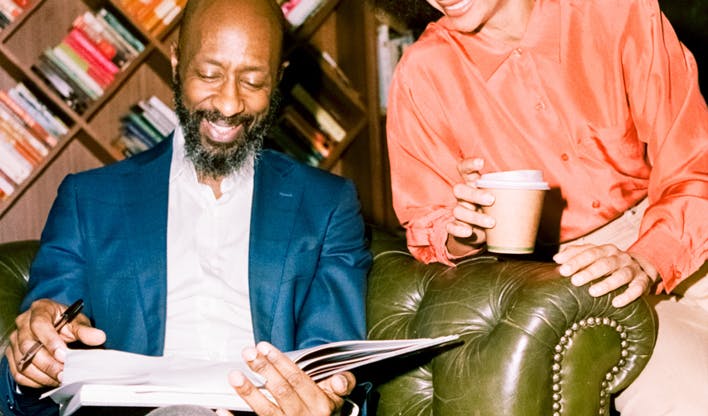 Article
Engage your workforce with our employee spotlight template
7 mins
Looking for a way to showcase your talented team members? Try our Employee Spotlight Template and highlight the skills and achievements of your employees.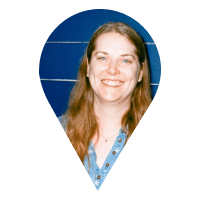 Written by
Alexis (Lexi) Croswell, Customers
There are several ways that tech organizations can make employee recognition a pillar of their company culture, but employee spotlights are one effective tool. 
Internal employee spotlights help companies recognize employees for their accomplishments in a low-cost, low-effort, high-impact way: In a survey asking employees to state what motivates them to do great work, 37% of employees said that more personal recognition would encourage them to produce better work. 
Below is our guide to everything you need to know about employee spotlights — plus a helpful template to help you create your own.
What is an employee spotlight?
An employee spotlight is a short writeup recognizing an employee's skills, contributions, and accomplishments. "Employee of the Month" awards and the brief articles accompanying them are one example of an employee spotlight. 
In many cases, employee spotlights take the form of a written interview with an employee where they share their testimonials and employee stories. However, feel free to get creative with the layout of your employee spotlights: Include more engaging elements like videos, podcast interviews, and images. 
You also have several options regarding where to publish the spotlight, from social media to your company newsletter to a company-wide message in a communication channel like Slack. Below is an example of an employee spotlight we've shared on Pyn's LinkedIn profile.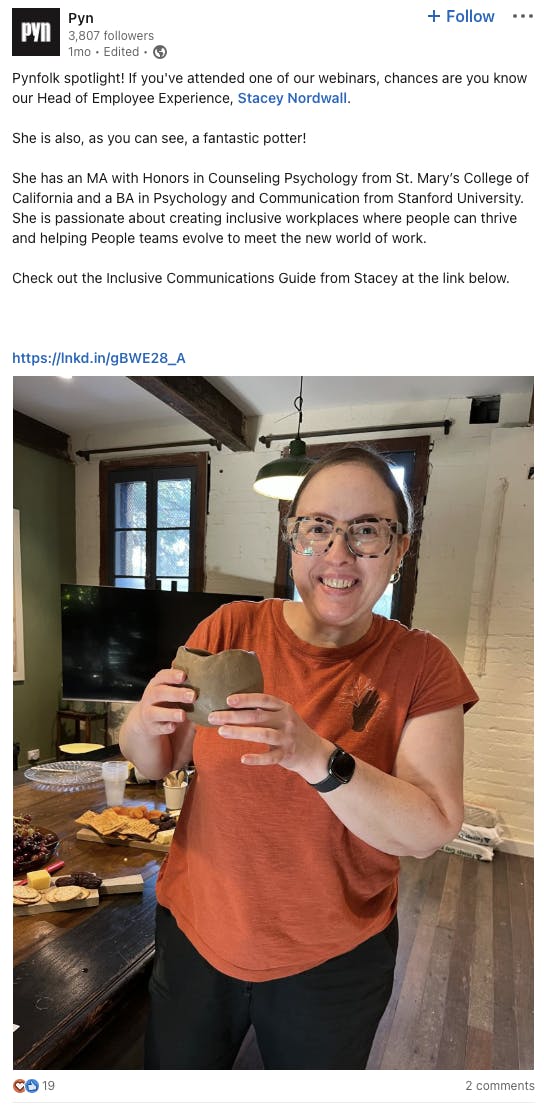 Why employee spotlights are important for the employee experience
Beyond improving motivation, engagement, and retention, employee appreciation is an objective that can directly impact a fast-growth tech company's bottom line. Here's a closer look at the business-boosting benefits of using employee spotlights to improve the employee experience.
Recognition and motivation
Recognition is one of the most powerful forms of motivation in the workplace, and 83.6% of employees agree that recognition impacts their motivation to succeed at work. By providing an extra incentive for employees to do their best work, employee spotlights help maintain a work environment where everyone is motivated and inspired.
Increased employee engagement
Highly engaged employees are 14% more productive than their disengaged counterparts, but only 36% of U.S. employees report feeling engaged at work. As with motivation, though, recognition and engagement go hand-in-hand. With employee spotlights, you'll easily provide the employee appreciation vital to keeping your employees as engaged as possible.
Higher employee retention
In 2021 alone, 47.4 million people quit their jobs, marking the highest employee turnover rate in years. However, employees who are engaged and motivated via employee appreciation efforts such as employee spotlights are much more likely to stick around for the long haul. 
This enables your company to retain the talented employees it attracts and avoid the considerable expenses and disruptions of high employee turnover.
Improved brand recognitions
Along with helping you retain your existing talent, employee spotlights can also help position your company as a more attractive option for new hires. When published on public platforms (like your company's LinkedIn or Instagram account), employee spotlights boost your employer branding and show potential hires that your company recognizes hard work.
When should employee spotlights occur?
Any accomplishment that deserves recognition or an important moment or milestone that deserves celebrating is an opportunity for employee spotlights. And since employee spotlights are cheap and easy to publish once you have the process down and the right templates in place, there's no reason not to publish them whenever you can! 
These are just a few examples of ideal employee spotlight opportunities:
Recognizing a high-performing employee
Celebrating birthdays and anniversaries
Celebrating a return from a leave of absence
Welcoming new hires and celebrating retiring employees
Celebrating first-time managers and other promotions
How to create an employee spotlight
1) Decide on the milestones you want to spotlight
We've just mentioned some of the milestones and accomplishments that are worth recognizing with an employee spotlight. 
However, you need to decide on the specific milestones for which your company will publish employee spotlights — and you need to stay consistent once you decide. The last thing you want to do is fail to recognize one employee for a milestone that earned another employee a spotlight. 
To avoid hurt feelings and making employees feel unrecognized, decide ahead of time which milestones you will spotlight and do your best to make sure that nothing slips through the cracks. 
It's best to choose milestones that you can keep up with. For example, birthday spotlights might get a bit overwhelming if your organization has hundreds or thousands of employees. In those instances, it may make sense to spotlight less frequent milestones, like major employment anniversaries (one year, three years, five years, 10 years).
2) Determine a nomination process
Some employee spotlights (like those celebrating birthdays and welcoming new hires) won't require a nomination process, but something like an "employee of the month" spotlight will. For these employee spotlights, you will need to determine a nomination process. 
This process can be peer-led, with employees voting on who they would like to nominate, or you can leave the nomination process up to your managers and executives. Once again, it's important to be transparent and consistent with your nomination process so employees don't feel like you are playing favorites.
3) Notify the selected employee
It may be tempting to surprise employees with an employee spotlight, but this generally isn't a good idea. Some employees don't enjoy public recognition and all the attention that comes with it and would prefer to be praised privately. 
Before you publish an employee spotlight, be sure to notify the selected employee and make sure that they are okay with being recognized in this manner. 
4) Compile employee spotlight questions
Speaking of employee interviews, you will need to compile a few spotlight questions for the selected employee if there is any information or quotes from them that you would like to include in the spotlight. The answers you receive to those questions can then be published as quotes in interview-style format, or you can simply use the information you gather to guide the spotlight's content.
A few examples of employee spotlight questions that will help you create personalized, meaningful employee spotlights include:
What is your favorite part about working for our company?
What is the best advice you could give to a brand new employee?
What are your goals for the next few months/years?
What are you most proud of in your career so far?
What do you think makes our company culture unique?
How has your role evolved since you joined the company?
What is one thing that you wish people knew about your job?
5) Decide when and where to feature the spotlight
Sharing the spotlight publicly via social media posts is the first option. Many employees will appreciate that you are praising their work publicly, and posting employee spotlights on your social media accounts also offers the added benefit of improving your employer branding and positioning your company as a great workplace.
You can also share employee spotlights internally through private social media groups, intranet web pages, or an internal communication channel like Slack. This is ideal for instances where you don't want to broadcast the information included in the spotlight to the entire world — or cases where the employee doesn't want the spotlight to be shared publicly.
Employee spotlight template
Using an employee spotlight template can help streamline the process, making them an even more convenient tool for busy HR teams at rapidly growing tech firms. Use this template as a starting point and make adjustments where needed to fit your organization's unique culture. 
Employee's name and role: Start by clearly stating the employee's name and position in the company.
Employee's picture: Including a photo of the employee can make the spotlight more engaging and help other employees put a face to a name.
Brief bio: A brief bio of the employee can include information such as their education, work history, hobbies, and interests. This helps personalize the spotlight and can help other employees get to know them better.
Achievements and accomplishments: Highlight the employee's notable achievements and accomplishments, such as successful projects, awards, or commendations. This can provide recognition and motivate the employee to continue to excel.
Work philosophy: Ask the employee to share their work philosophy, goals, and vision for the company. This can inspire other employees and align everyone toward a common goal.
Fun facts (optional): Including fun or interesting facts about the employee can help personalize the spotlight and connect with other employees. However, consider this section optional depending on how comfortable the employee is with sharing such facts about themselves.
Call to action: Ending the spotlight with a call to action, like inviting other employees to congratulate or connect with the employee, can help foster a positive work culture of recognition and collaboration.
Recognize your team members at the right milestones with Pyn
Employee spotlights are a convenient and effective way to make employees feel appreciated and celebrate the moments that matter. Pyn helps companies recognize their valued team members at the right milestones with personalized messages of appreciation and timely employee spotlights.
With Pyn, you can leverage HRIS data to define the moments and milestones that matter most to your employees so that every key milestone is recognized. Thanks to its powerful software, Pyn enables you to send automated yet targeted messages that resonate with each unique individual, enriching their experience throughout their employee journey. 
See how Pyn empowers effortless employee appreciation with a free demo.