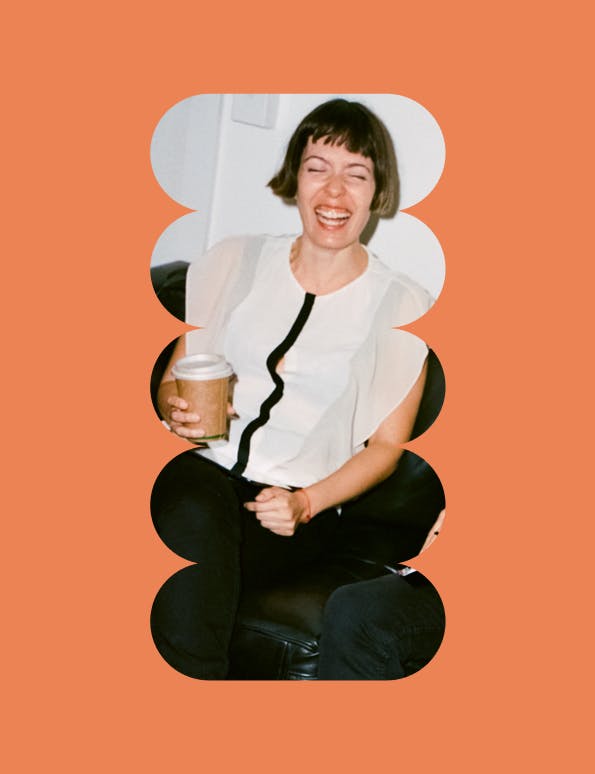 Article
6 tools you can use to design your Employee Journey Map
6 mins
Discover the 6 top tools you can use to create an effective employee journey map. From touchpoint mapping to feedback gathering, these tools have got you covered.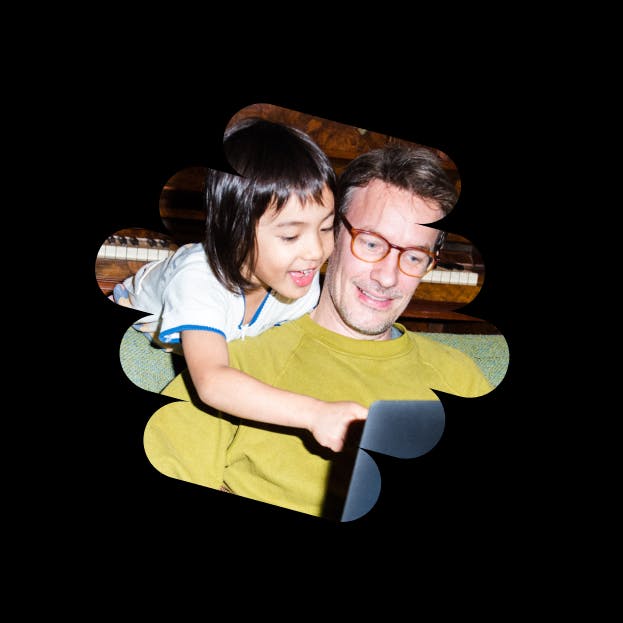 Written by
Joris Luijke, Co-Founder & Co-CEO
Creating an outstanding employee experience is no small feat. It takes well-defined goals and careful planning. Luckily, there's a process to help you map out the entire journey - Employee Journey Mapping. 
Your Employee Journey Map prioritizes key experiences of your employees - from their very first day until after they leave your organization. 
I'm sharing the tools I've used while creating Employee Journey Maps so that you can make sure yours will be exceptional.  
1. Pyn's Employee Journey Mapper
Finally an effortless way for teams to collaboratively map out every touchpoint of their employees' journey - from recruitment all the way through onboarding. 
Pyn's Employee Journey Mapper makes it easy to create a unique and remarkable employee experience. Add your name on the waitlist because this powerful tool will be available soon!
Visually, the Employee Journey Map represents the stages of an employee's experience (like onboarding). Each stage of the Employee Journey includes Moments that Matter, important moments employees encounter during those Journeys.
At each of those Moments that Matter there may be several touchpoints between the companies and the employee - like sending managers a helpful "guide to do a 90 day check-in." With Pyn's Employee Journey Mapper, you get a head start. These moments are ready for you to personalize using our Employee Journey Templates.  
Aside from being fun and free-to-use, using Pyn will help make sure that no challenge in designing an optimal employee experience goes overlooked. 
Pros
The employee journey at-a-glance: Get touchpoints for every moment
Collaborate, prioritize, and align strategy online! 
Easy to further automate and personalize support for employees
Scoring my Journey Mapping experience in Pyn: A+ (naturally 🙂 Sign up to see for yourself!)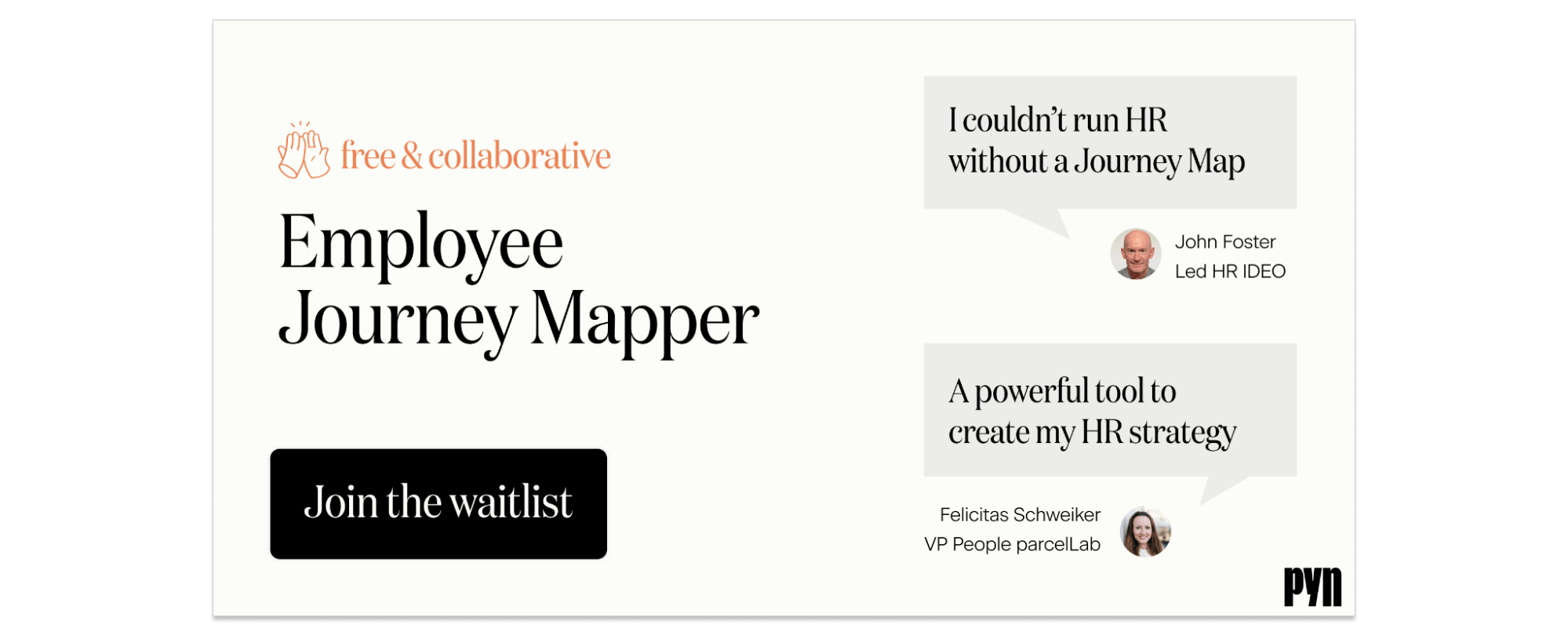 2. Miro: Virtual Whiteboard 
With Miro, your team can come together on an online canvas to craft a custom Journey Map. I personally had a great time designing mine - it was really enjoyable. Check it out here!
I did find myself spending quite some time on the design though, so that can slow the process down.   
Pros
Online, so distributed teams can access from anywhere
Super easy to use and add (virtual) sticky notes when brainstorming  
It's free (you can upgrade) and easy to set up 
Cons 
No employee journey templates, so you'll have to start from scratch
Requires some consideration on how/where on the board you want your team's input 
It's hard to link to real content or systems 
As a tool, I rate Miro super high (an A-grade tool). So, how would I score my experience creating a Journey Map using the tool? Scoring my Journey Mapping experience in Miro: C+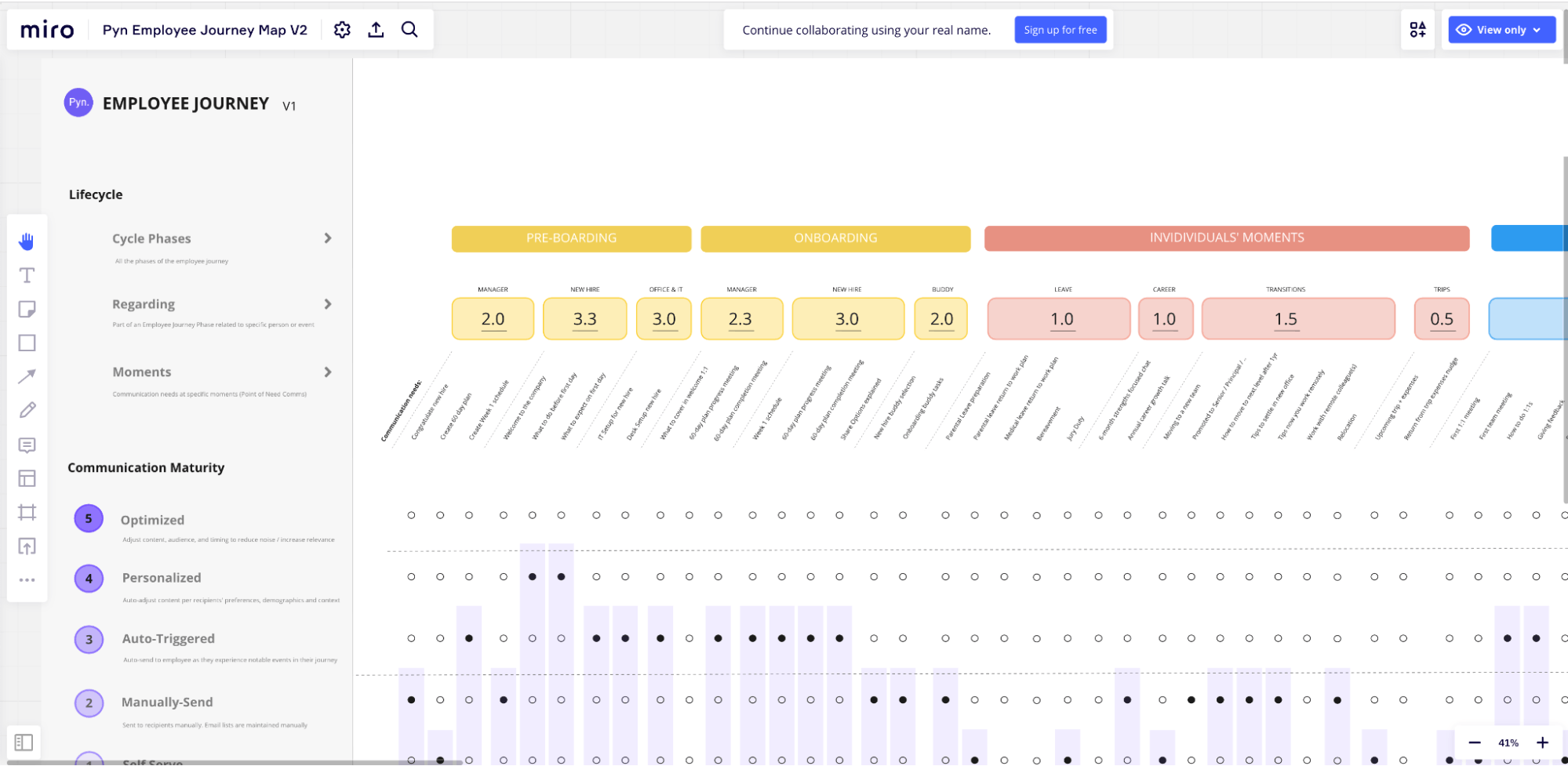 3. Figma: Online design tool
If you want more flexibility in your Journey map design, you can start collaborating in Figma. The collaboration options are similar to Miro, but allow you to build scalable more designs easily.
I created a Journey Map in Figma, and it was great to work in. I get a bit stuck when trying to add new moments or touch-points. Also, using the tool to prioritize and assign employee experience (EX) improvements is hard, so though the designs look great - you won't be able to use Figma for project management.     
Pros
Online, so distributed teams can access from anywhere
Can scale your designs and make your journey map look great
Some solid templates in their template library to get you started 
Cons 
Bit of a learning curve (their FigJam tool is easier) 
Hard to make changes to the designs (add moments or touch-points)   
It's hard to move from Journey Map to activation (automating content etc)      
Scoring my Journey Mapping experience in Figma: B-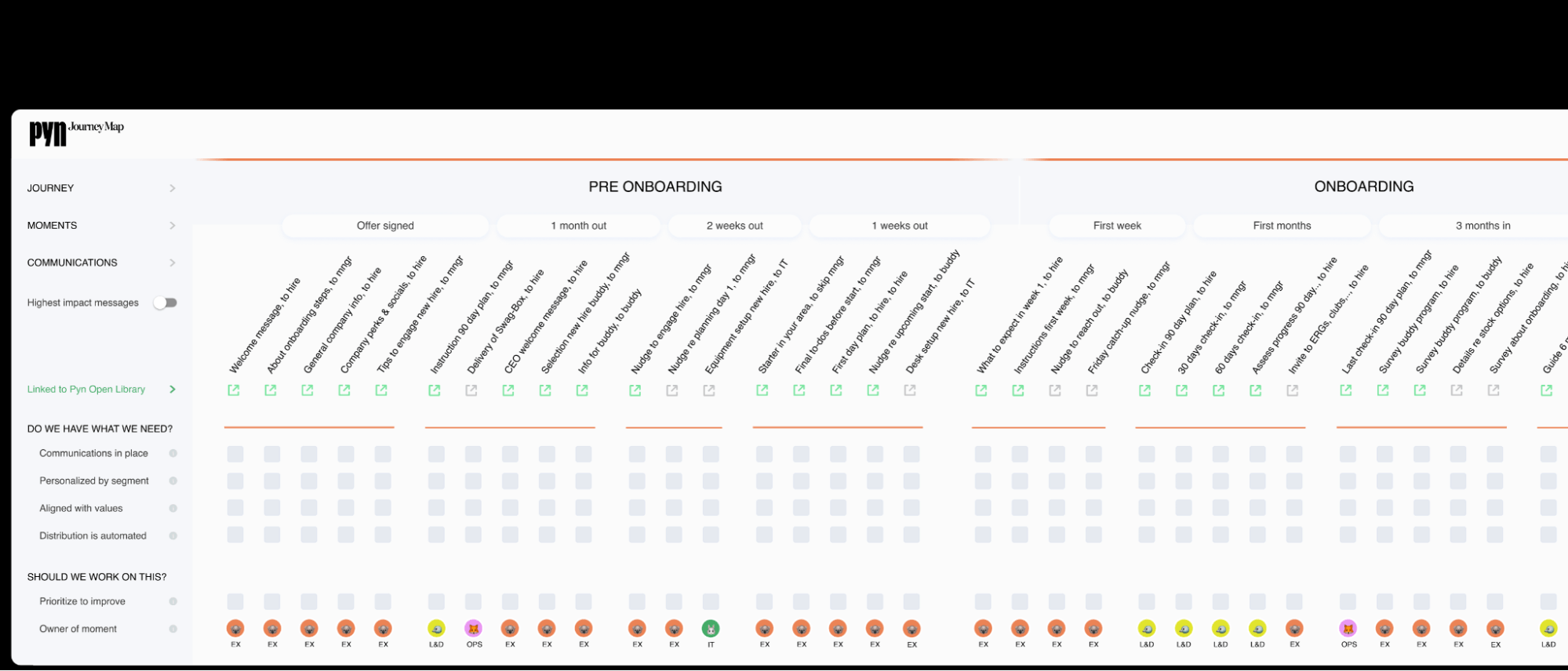 4. Google Sheets: A list of moments 
Working together on visuals can be a delightful challenge and an engaging experience, but sometimes the sheer power of mapping out your Employee Journey with all its Moments that Matter and touchpoints in one simple Google Sheet makes it more efficient to move forwards towards action. 
This powerful tool allows us to easily gather information while also helping plan what's needed for real EX improvements.
Without the visual representation Journey Map, navigating the list became a more difficult and disorienting task. It was challenging to keep sight of those high-level journeys and strategies. 
Pros
Very easy to add and change content
Can prioritize and assign tasks
Easy to collaborate and learn (many already use Google sheets every day) 
Cons 
No visual of the Employee Journey
Brainstorming and ideation feels stale 
Presenting your strategy to stakeholders using a sheet falls flat 
Scoring my Journey Mapping experience in Google Sheets: C+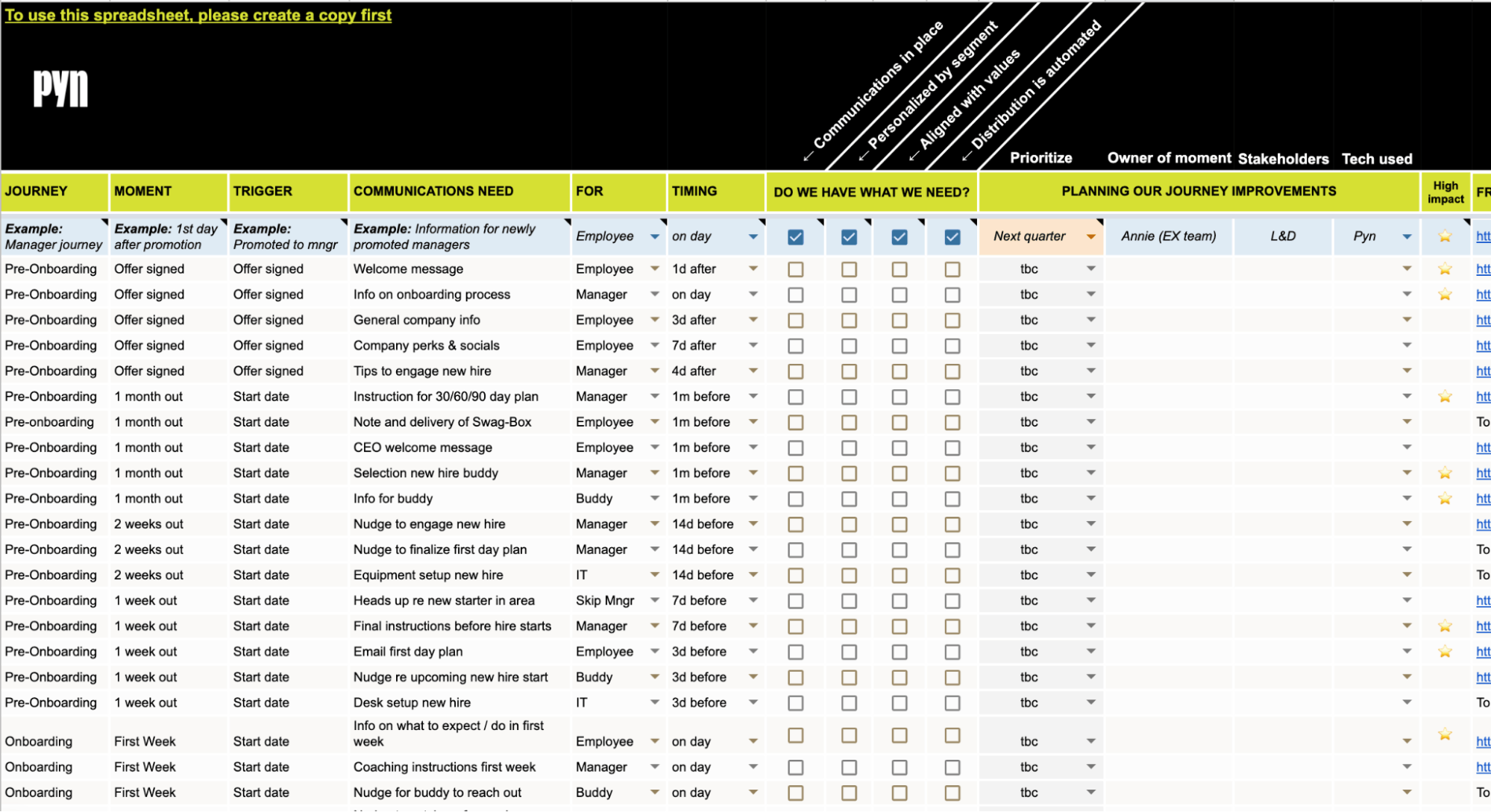 5. Notion: Collaboration platform  
Sometimes it's just easier to add all your work in the collaboration platforms you already use. If you work in a platform like Notion, you could decide to design your Employee Journey Map there. 
Notion's "Boards" features make it easy to structure your Journey and invite team members to suggest more touchpoints using "Cards." It is also nice to see different views of the employee journey based on different criteria (using tags I added) and then filtering. For example, if I wanted to view all touchpoints I had tagged to be "owned by Learning & Development"   
I felt it was easy to structure parts of the journey but I found myself having to create different pages for different parts (or categories) within the journey. 
Even if I could probably have found a work-around, Notion is simply not designed to really scale your Journey map to the (almost infinite) size you'd require.
Pros
If you already use Notion, it's easy for team members (and yourself) to use
Can prioritize and assign tasks and filter the journey map based on criteria/tags 
Adding touch points using the "Cards" is a nice, playful, experience
Cons 
Notion struggles with a longer journey like the employee journey
The map gets a bit messy (too many tags etc) and therefore loses its power
Hard to make the next step of automating and personalizing support for employees
Scoring my Journey Mapping experience in Notion: B-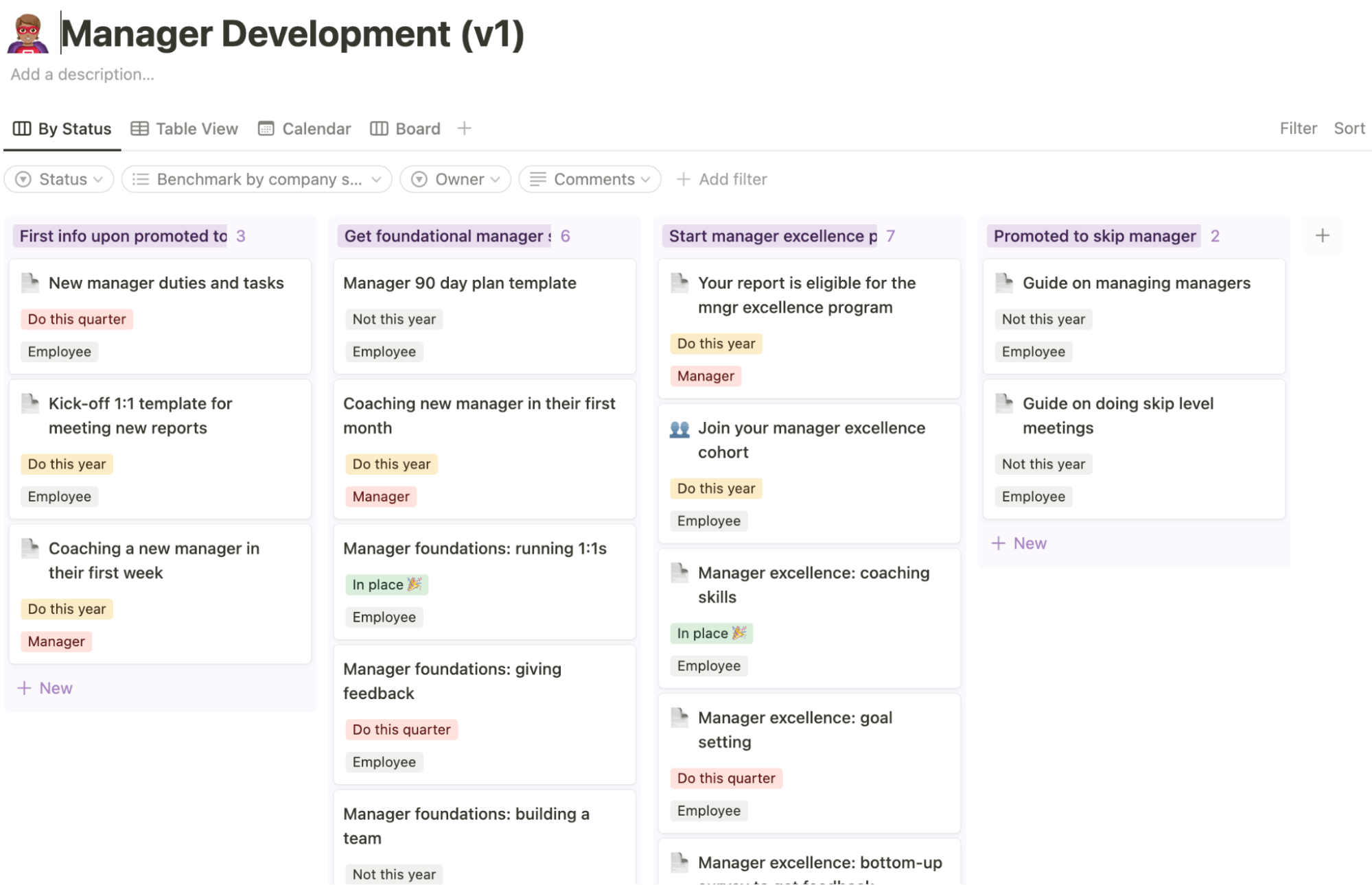 6. Whiteboard and Post-Its
Having the team together face-to-face and creating your journey map is priceless. 
It's such a fun activity! And it will be very effective - up to a certain point. I found that, unless you have endless time and all stakeholders in the room, you'll probably be running multiple sessions.
Therefore running the exercise face-to-face often provides a great starting point. And you'll need to schedule more work to make the work worthwhile.  Unfortunately, that is hard to do without software. 
I also found it hard to have the team start with a blank slate (or whiteboard). It's more helpful to begin Journey Mapping equipped with readymade templates that broadly lay out what should be considered during employee journeys upfront - avoiding having everyone start from scratch on their whiteboard.
Pros
Very energizing and collaborative
Easier to educate the team on the benefits of journey mapping at the same time   
Easier to ensure everyone gets involved 
Cons 
Harder to move from whiteboard to action 
Hard to start with a blank slate
Hard to allocate enough time and get all stakeholders involved
Scoring my Journey Mapping experience on the whiteboard with stickies: B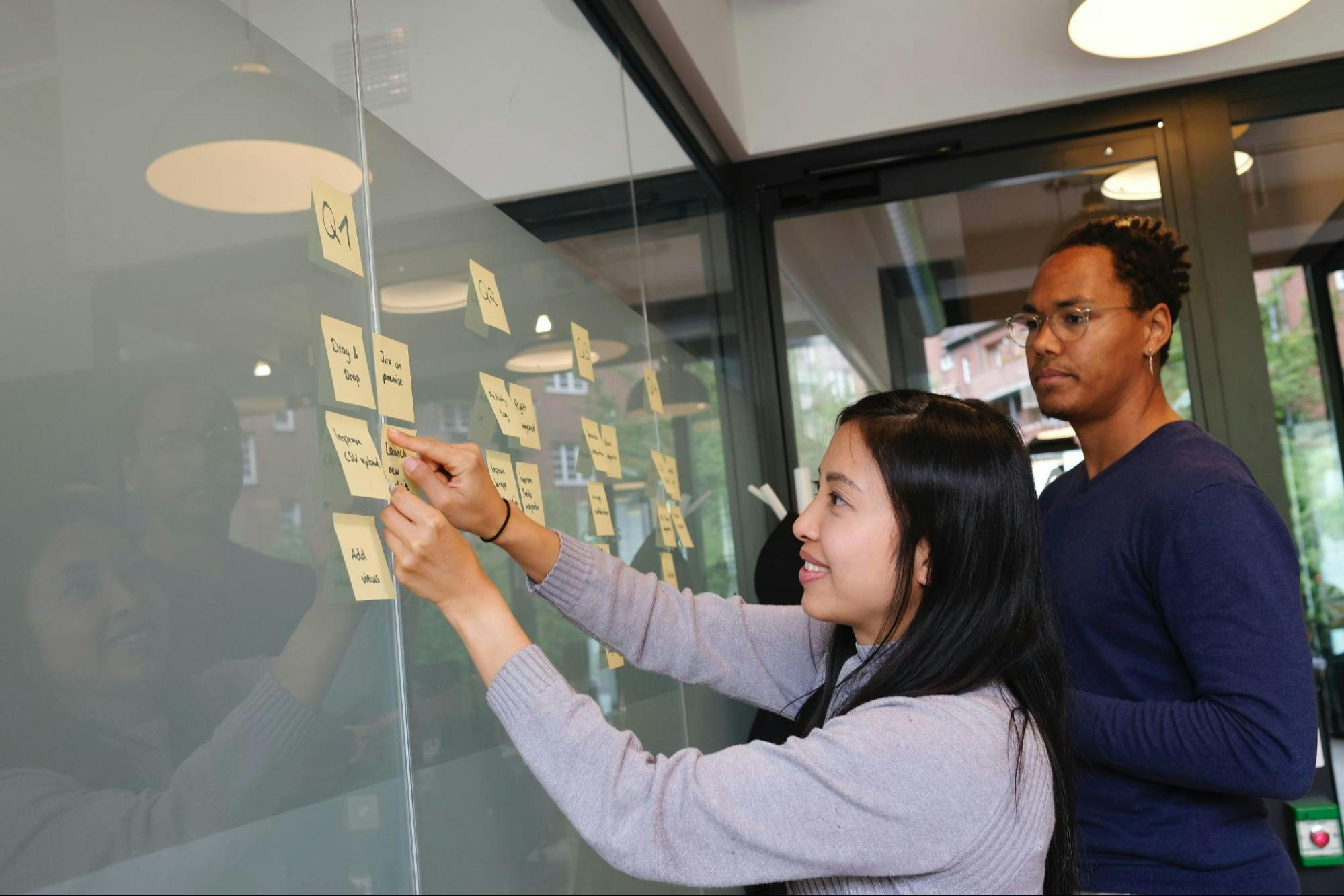 My report card scores for all systems 
There's no one right way to get started with Employee Journey Mapping, but we know that our new tool will help you get things off the ground faster. 
My report card on the Journey Mapping experience:
Pyn Employee Journey Mapper: A+ (get access!) 
in Miro: C+
In Figma: B- 
In Google Sheets: C+
In Notion: B- 
On whiteboard with stickies: B