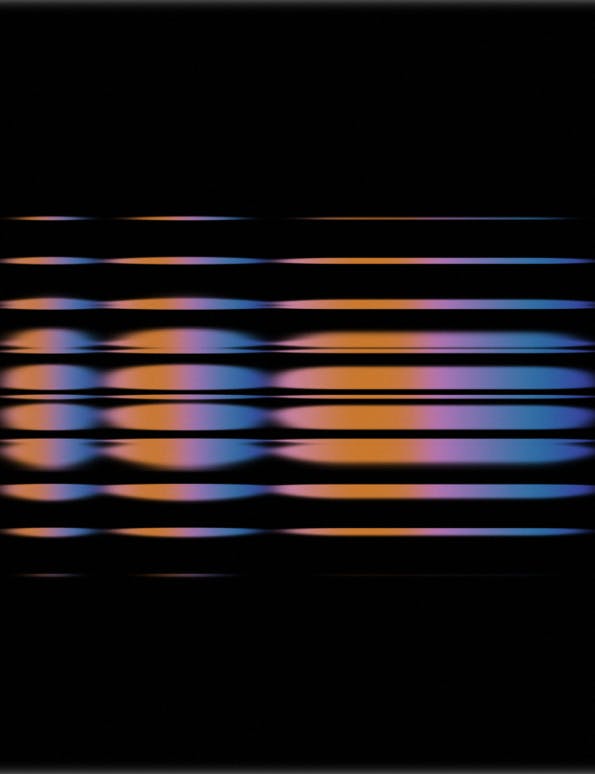 Article
Creating employee personas: Insights and advice from HR + Comms experts
8 mins
Learn from Andrea Egert, Head of Productization at LiveRamp and Anne Cannady, Director of Employee Experience at Fastly.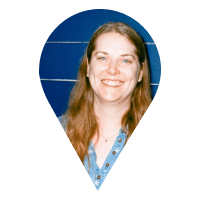 Written by
Alexis (Lexi) Croswell, Customers
Like customer personas used by product and marketing teams, employee personas are a useful design thinking tool for HR and Employee Experience teams. 
As the team at Pyn is working on our new Employee Journey Mapper, another design thinking inspired tool, we decided to look into the ways in which employee personas can support employees across their journeys. 
We spoke with two industry experts with experience working on employee personas: Andrea Egert, currently the Head of Productization at LiveRamp, who worked with many growing companies during her time as a Lead Strategist specializing in the future of work at ERA-co and Calder Consultants, and Anne Cannady, the Director of Employee Experience at Fastly. 
From their experience, you'll learn what an employee persona is, what benefits it can bring (and when it's maybe not the right tool for the job), and get insight on how to start creating and using your own employee personas. 
What is an employee persona?
Both Andrea and Anne agree that an employee persona is a tool that helps you understand different segments of employees. Anne says, "It's an archetypal descriptive profile of different employee segments that are based on motivations which influence their wants and needs." 
Andrea adds, "It's both an abstract and a personal way of describing groups of people working in the organization including what drives and motivates them."  
For larger and more complex organizations, employee personas can be a useful tool for communicating more effectively with employees and managing change. Anne used an employee personas exercise to help plan a return to the office, and Andrea has seen it benefit companies through different types of experience design and change management. 
"Given the time in which we're in where the workplace is being reimagined, our personas were developed to include people's life goals and career goals and how they intersect. We're understanding people's relationship to work and how it fits into their life," explains Anne. 
The benefits of using employee personas
It was while consulting with Atlassian that Andrea first started using employee personas. Her goal was to "elevate the effectiveness of the Atlassians because the best companies focus on designing, delivering and continuously improving their external and their internal products and experiences." Creating employee personas to understand the "internal customer," or the employee, was the first step towards that goal. 
"When the rate of change and complexity is high, it can be hard to create a common understanding around what matters most. Personas break down that complexity, they anchor and align everyone," says Andrea. 
It's also important to understand what will drive your business and your people in the future. "You can ask yourself, 'Where do we want to be as an organization?' and therefore, 'How do we want these personas to evolve?'" says Andrea. 
For companies working with a remote or hybrid workforce for the first time, employee personas can be particularly helpful. By looking at the physical and digital tools that any employee uses for their job, rather than creating a separate "remote" persona, you can understand the experience of all employees. 
When the Great Resignation was taking place, Anne and her team carried out focus groups based on persona type to understand how to retain their employees during that time. 
Companies that may benefit most from using employee personas are tech companies, any organization that is familiar with design thinking, or uses customer personas. When they may not be as beneficial is if your organization changes so much that the personas always seem to be lagging behind. "For organizations that restructure and evolve that often, a higher level employee journey map is more appropriate," says Andrea. 
What's included in an employee persona? 
Your employee personas are an artifact that could be presented as a PDF document, a Google Slide deck, Word document, or an interactive tool. Most employee personas include the following elements: 
A picture: Could be a stock photo or illustration of that persona. Typically is not a photo of a current or former employee, as the intention is for the persona to apply to a segment of employees. Ensure you reflect the desired diversity of your teams. 
Name or title: The persona can be given a name, like, "Taylor," or a more descriptive title like, "Knowledge Seeker," or a title that is specific to a department or specialty like, "The Engineer."  
Information about their day: Both Andrea and Anne emphasized the importance of including detail about their time at work and outside of work. You want a full representative picture of the employee as a person.  
Motivations: What drives and motivates them?  What's their personal mission? This is an important piece of information that should be uncovered by your research.  
What they need to be successful: Is this persona particularly in need of support from a manager? Or are they more self-managing? What sort of tools and workplace environment do they need to be effective? This is another section that should be uncovered by your research. 
Moments that matter: By exploring the moments that matter most to that persona and why, you can use your personas as an input on your Employee Journey Map.
Andrea explains how personas are unique within the business, "Everyone's very used to looking at job descriptions. Personas are not job roles or JDs. They may broadly describe the  work someone with that persona would do, but they mostly focus on what drives that persona and what they need to succeed.
Employee Persona Template
We've created an Employee Persona Template in Canva you can use for free! You'll have a place to start that incorporates what's typically included in an employee persona, and you can customize it with your own branding and imagery.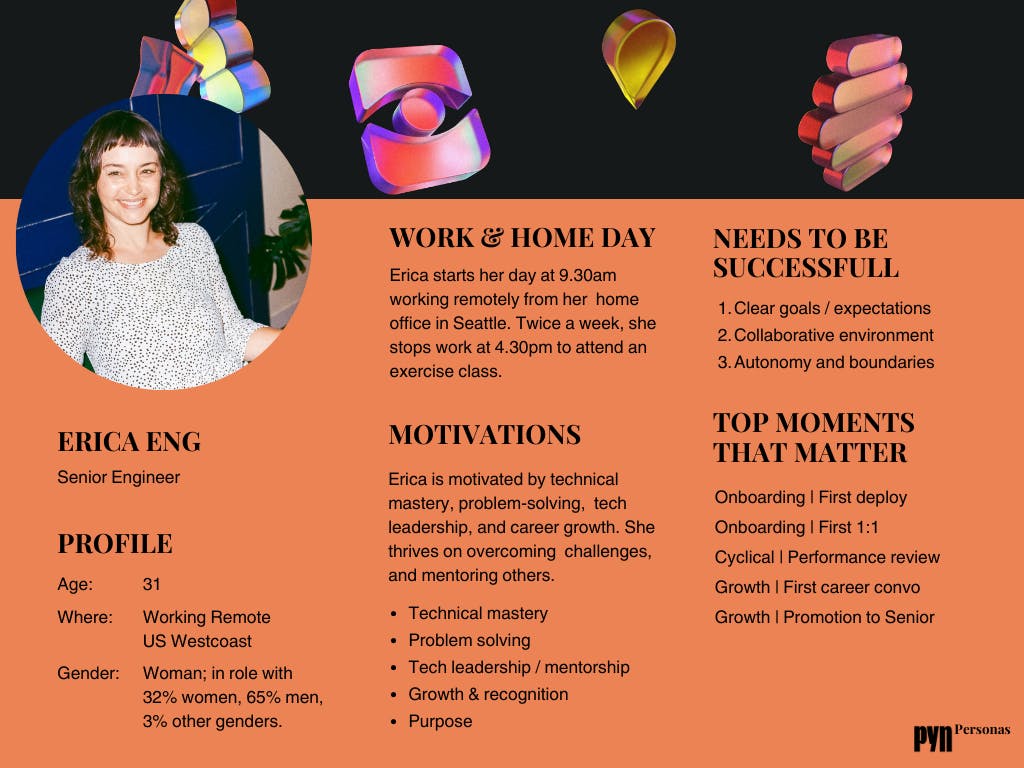 How to create your employee personas 
There are a few ways to go about creating your employee personas, but every path starts with research, most importantly, interviewing your employees. Andrea has worked with companies to create employee personas in-house and Anne has worked with a consultancy to create employee personas. We'll review their experiences which we then compile into 7 simplified steps to creating employee personas.
Creating employee personas in-house
In Andrea's experience working with different companies, she begins by understanding the organization's industry, the roles typical to that industry, the roles within the company, and where the company is heading. "Then I look at a list of current employees and teams and decide who I need to talk to apart from the leaders. I always look at open role listings as well, because they provide a view into the near term future." 
After reviewing what data on the company she can find and speaking with current employees, she creates a first draft, linking it to an Employee Journey Map when available. Then, she reviews the draft with a subset of employees and asks for further input. "People appreciate the collaborative process. It builds trust and creates buy-in, a vital ingredient to drive change" she says. 
Working with a consultancy to create employee personas
Anne recruited innovation consultancy Propellerfish to support in the employee persona creation process. At the time, there was research coming from firms like Gartner predicting that the future employee value proposition was a human one, and there would be a blending of work and life outside of work. So, they wanted to see if people at Fastly were comfortable with that integration of work and life. 
"Propellerfish created the personas based on in-depth interviews with 37 different employees across all of our functions and three different geographies. They also did six group sessions with managers," she says. What they found was that their personas could be defined by two questions, related to a person's points of view on work and their outlook on work life balance. 
Seven personas were created, based on an employee population over about 1,100. Most employees fell into five personas, and the other two tended to be most applicable based on duration with the company. "Most new hires tended to be one called the 'Sponge.' And there was one called the 'Fastly Fanatic' that was like, this was their family. They'd been here forever."
7 simplified steps to creating employee personas
Taking into account the steps involved in both Andrea and Anne's experience, your process to creating employee personas may follow these steps: 
Decide why you want employee personas - what challenge will they help you solve? 
Research your industry and key roles within it
Understand the future goals for your company 
Interview a representative sample of employees - look across tenure, geography, and job function. Ask questions that help you understand the day-to-day life and motivations of employees. For example, "Can you describe what a typical day is like for you? Including time not at work," or "When it comes to doing your best work, what do you feel you need to be most successful?"
Compile your interview research, identify themes, and create draft personas
Review draft personas with stakeholders and refine based on feedback 
Present finalized personas back to the company along with a plan for their use over time
Keeping your employee personas alive and active 
As with many new tools, if not used regularly, their usefulness can wane over time. Andrea's advice is to use your employee personas throughout the year, "Then you'll get prompted to keep refreshing them as you learn something new so they are a dynamic tool. They can become stale if they're not being looked at as team names and internal terminology change," she says. 
Anne even designed a one-on-one training for the leadership team on the employee personas so everyone understood how to use them. About a year after the personas were created, she met with the People Team to review priorities and use the personas to identify their highest priorities.  
They also used them to create an employee experience champions group. Interested employees were sent a quiz to discover their employee persona, get to access the results and understand the persona they had been matched to, then Anne arranged monthly meetups by persona types. 
Andrea adds, "Try maximizing the value of the persona tool by operationalizing it across teams, e.g. Comms, People & Culture, Technology and other teams that impact the employee experience. Similarly to employee journey maps, personas will align business enabling teams and help them think about their internal customers holistically, micro and macro."